Coronavirus Disease (COVID-19) Update
This is a rapidly changing situation, so please visit this page for regular updates.
Information for Interpreters and Translators
Last update: 19 March 2020, 11AM AEST
During times of uncertainty regarding the impact of COVID-19, we would like to remind you of the various ways you can accept new onsite bookings as well as return already assigned bookings.
What you should do when you are onsite at a client's premises –
Follow the institutional requirements/conditions of entry. E.g. When attending a hospital for an onsite booking, follow instructions required by the hospital/health service.
Ensure that you adhere to the Australian Government's requirements and regulations at LINK. This information is updated regularly throughout the day so that you remain informed of the latest updates.
If you suspect you have been exposed to the virus or have symptoms –
Immediately contact the nearest screening centre or call the Health Department hotline in your State. 
Do NOT attend any onsite bookings.
Call All Graduates on (03) 9605 3000 or email bookingteam@allgraduates.com.au
If you would like to ACCEPT an onsite booking, please either –
Accept the job via the text message link received
Accept the job via the email link received
Accept the job by contacting one of team members on (03) 9605 3000.
If you would like to RETURN an onsite booking, please either –
Actions we will take based on Client Instructions
Based on changing client requirements and discussions with our clients, All Graduates will be acting on client instructions to making changes to some onsite bookings. These changes will include cancelling confirmed onsite bookings, converting onsite to telephone interpreting, and in some instances providing services via a videoconference. Our booking coordinators will contact you if any of your confirmed bookings are impacted.
What you should do if you wish to undertake telephone interpreting
You can notify us with the specific times you would be available for telephone interpreting via your mobile APP so that we can reach you at your nominated times when a booking becomes available. Please see images below to assist you with this process –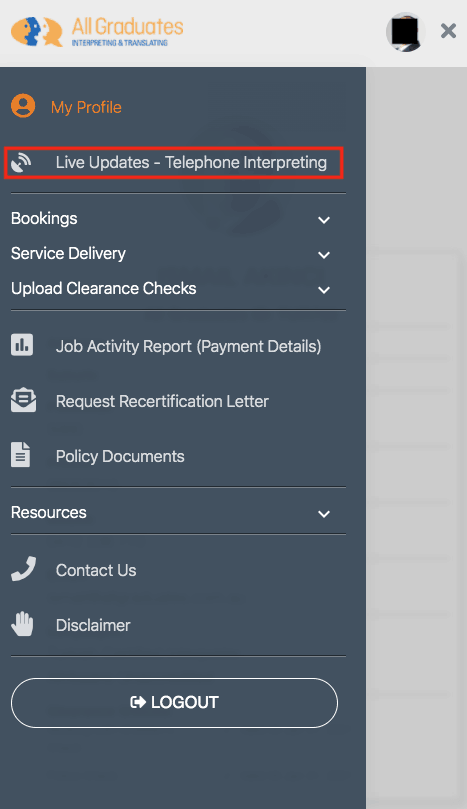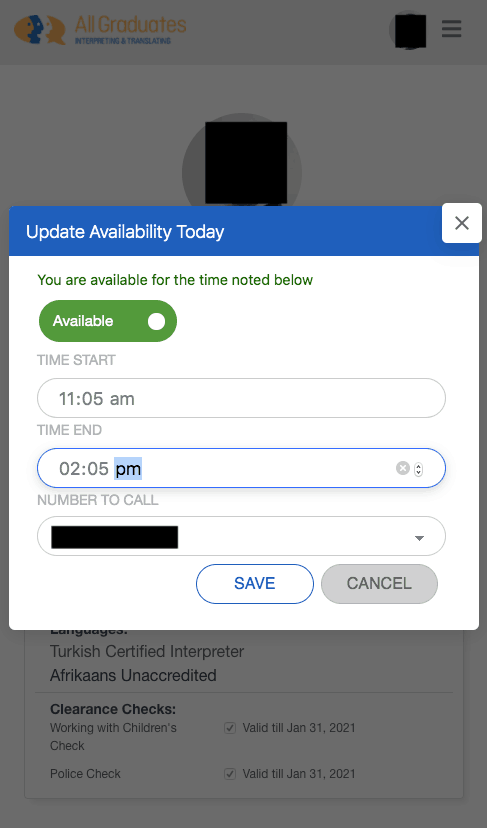 Where to get technical support?
Please email our helpdesk for technical support regarding login issues.
Email: helpdesk@allgraduates.com.au
All Graduates do not anticipate any disruptions to our service provision and support to our interpreters and translators. 
In the event of a head office closure, our ability to provide services will not be affected as we are ensuring that all head office/administrative staff, wherever possible, will work from home. This process has begun and staff has commenced the set up of their remote workstations. We expect this to be fully implemented by COB Friday 20 March 2020.
Our priority is always the health and safety of our employees and customers and we will continue to keep you updated should changes to our operations occur.
Stay safe and be well. We wish good health to you, your family and community.
Ismail Akinci
Chief Executive Officer